While reading Amanda
Lotz's
piece for this week, I was struck by the lack of analysis of the particular individuals that made up the percentages
she was showing us
to prove her point of the dissemination of Television and televisual forms
and the power that the Internet held in disseminating new ideas across nations
.
Within
her argument, while there is a pithy mention of mention in approximately 3 sentences near her conclusion, and only bringing up some of these issues
(specifically thinking about class)
in
the last 1/3 of her writing,
where
she
only briefly
makes
a slight nod at the subject
, I felt that there was a distinct hole in her analysis that would have made for a more engaging
theory and one that could have potentially been more engaging with the pitfalls of the medium
.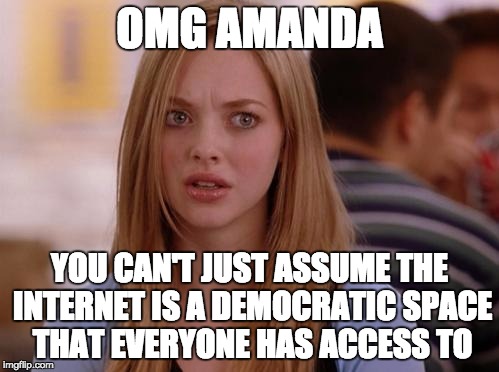 One of the first times that
Lotz
mentions the idea of class in regards to the access of this technology comes on page 70, when she begins the paragraph about half way down the page stating: "Enormous distinctions related to different types of work and socio-economic class distinguished who was likely to and able to use and afford these mobile television devices.
Technological tethering functioned particularly acutely for the managerial class.
Mobile Phones had been disseminated across socio-economic divides by 2005.
"
(
emphasis
added).
Unfortunately after making this declarative statement, she fails to further interrogate the reasons why this sort of class divide would be problematic, and who exactly falls into the category of "not managerial."
While it is true that the use of the mobile phone has indeed moved its way across the socio-economic divide, it is the lack of acknowledgement of the barriers that still inhibit the access, creation power, and dissemination of these images that makes me pause.
Mainly, that it is not merely the owning of the technology that allows for the access
of supposedly infinite content of the Internet
. While yes, in theory, once one has a device one can access content.
But there are modulators to this access, which determine the when, and how
people are able to get online. What does it mean for those that only have the public library, a public space, to access this private/public/nebulous technology? What does it mean to have the mobile phone and the power to create content? The modulators are key however, in so far as o
ften, with these technologies if you do not have access to a
wifi
signal (still something that not everyone has) or have money to pay for a data plan, you cannot be a part of the digital conversation
in such an immediate fashion as
Lotz
outlines in her chapter
. There is a privilege divide, often referred to as the Digital Divide
by some academics
, which stands in the way of, often previously marginali
zed groups by dominant hegemony, allowing these voices to be heard, be a part of the conversation, and be continuously put down by dominant culture.
I had a few other issues with the
Lotz
reading, while I thought some of her analysis and relaying of how the Internet has m
oved viewers in space in comparison to traditional broadcasting was intriguing, I didn't find that it held up well over time and that some of her analysis/predictions don't fit the current moment that we find ourselves in. If she had done more work with the ideas of class there might have been more to talk about when thinking about push/pull media, but I look forward to
a lively discussion of the emergence and dissemination of
televisiual
style content through the medium of the Internet.